Custom Industrial Design Work
No matter whether you're looking for a shelving system for your den, kitchen, bedroom, or bathroom, I can design something perfect for your space. All you have to do is provide me with rough measurements and an idea of what you'd like. I'll draw up a mock design, and we can make modifications from there.
My custom work is all over the world — an industrial bookcase at an exhibit in Disney World; a wall shelving system in Hamburg, Germany; custom shelves at a tattoo parlor in Ireland, custom shelving for a shipping company in Canada, etc.
Have a vision? Try me. I'll make it come to life!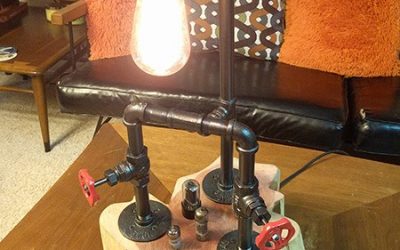 This page is only here to show off some of my design and build skills. While these lamps aren't available to purchase online (I don't want the hassle of shipping them), some are available at The Loaded Grape in Greensboro, NC.Enjoy the funkiness and beefy...